Renee Law celebrates 25 years as part of the Moss Vale Dental Team
2020 has certainly been a tumultuous year, however this month our Senior Treatment Co-Ordinator – Renee Law celebrates 25 wonderful years with Dr Patrick Meaney and Associates.
Where were you in October 1995?
To jog your memory, O. J. Simpson was found not guilty of double murder for the deaths of former wife Nicole Brown Simpson and Ronald Goldman. A planet called 51 Pegasi b was discovered orbiting a distant star, the first one ever discovered. And a French woman, Jeanne Calment, reached the confirmed age of 120 years and 238 days, making her the oldest person ever recorded.
But all of these significant events were overshadowed in my career by a much more memorable event, because I know where I was and what I was doing: I was in Moss Vale, across the road from where I now practise, as I was being introduced to three new employees, all on the same day.
Given positions as trainee Dental Assistants, this trio of bright-eyed and happy girls joined our practice with all the enthusiasm of extreme youth. I don't know what happened to one of them, an amateur ballet dancer in her spare time, with a graceful way of negotiating the surgery furniture. Another stayed in the industry for a while before fading away into domesticity.
The sole remaining survivor this month celebrates a quarter of a century serving the people of the Southern Highlands. She has been variously a trainee, an emerging highly competent dental assistant, a multi-certificated super-nurse, a staff manager, dental equipment and technology liaison contact, expert equipment repairer and maintenance engineer and head trainer of new young people at our practice for 25 years.
Renée started off as Ms Webster and completes this first part of her career as Mrs Law, an appropriate name for the general in-charge person that she has grown to become!
Along the way she has collected TAFE certificates allowing her to take x-rays for our patients, carry out education in the best ways to stay healthy and clean teeth and, in case you need it, perform CPR to save your life.
She has also managed to raise two delightful children, discipline her husband, and, remember all of the names and quirks and preference as well as personal histories of thousands of patients.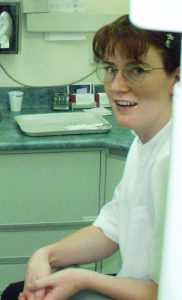 I sometimes wonder how she fits it all in—she is the embodiment of that phrase, 'if you want something done, ask a busy person'! And she does it all with an unfailing smile, just as she did all those years ago. I owe her a great debt of gratitude for hanging around as long as she has—she's one in a million and we are very lucky to have her. Well done Renée, and thank you!!!
Patrick Meaney
From Renee
A lot has changed in 25 years of being a Dental Assistant. When I first started out, I worked in an arcade where the surgery that I worked in had one window which had bars on it and the view was a brown brick wall. When we would take radiographs, they had to be developed (Like when you take film photos) with developer, fixer and then we would rinse them and hang them to dry then a day later you would file them into the correct order however we did have computer based software for patient notes and details.
We used to hand mix most of our cements and impression materials on a glass slab and or paper pads. Now most of the materials come in capsule form where it is mixed by a rotary mixer.
In September 2002 we decided to move premises to where we are now which is light, bright the view is a green garden and we have the state-of-the-art equipment. No more processing radiographs they now come up on a monitor in seconds.
I have worked with a lot of other Dental Assistants and also trained a few; as well as worked with several Oral Health Therapists and minimal Dentists.
I would like to thank Patrick and Evelyn and look forward to the coming years! Who knows what will happen in the next chapter?
Renee
Trivia Time
We thought we'd play a trivia game; Renee gave the team some questions to answer to see how well they knew her background.
What does Renee think is the best part of her job is?
Maddison: I'd say Renee thinks the best part of her job is interacting with her patients! I know she loves being a part of the transformation and seeing her patients happy with their outcome!
Renee: That's very true Maddison I love seeing the impact we have on patients' lives and yes, I do like talking to our patients> we have the nicest ones!
What is Renee's least favourite part of her job?
Multiple choice:
Pouring up models in the lab
Touching dentures
Suctioning
Talking to our patients
Madalyn: I've worked this answer out via a process of elimination it must be (b)
Renee: The answer is B whilst I love my job the least favourite part is touching dentures
What does Renee do when she's not at work?
Miree: When Renee is not at work she is still a busy bee! Renee is a super mum to her two lovely young girls and keeps up with a strict exercise regime, staying fit and healthy! Thanks for all your hard work Renee!!
Renee: Thanks, Miree that's very sweet of you; it's pretty much correct. I'm either being a Mum to our two lovely girls, at the gym or at home washing.
How did Renee come to be a dental assistant?
Melanie: Renee became a dental assistant more or less the same way I did! After completing her HSC she wasn't sure what she wanted to do, until her dad showed her an ad for the job in the paper. She applied, got the position, and never looked back.
Renee: That's exactly what happened Melanie; forever grateful to my Dad even though at the time I said something like "yuck that would be disgusting"
Where did Renee grown up?
Multiple choice
Bowral
Mittagong
Exeter
Moss Vale
Sacha: Is it D?
Renee:  Sorry Sacha I actually grew up in Exeter which was a lot smaller then than it is now .
What is Renee's favourite piece of equipment?
Shelly: 3D Radiograph Machine
Renee: That's correct Shelly the things that you can see with this is amazing and looks more lifelike now with the updated software.
The last 25 years!
A lot has also changed in Moss Vale since 1995
Moss Vale had a population of 6,888 in 1995 and now 8,579
We didn't have a Coles supermarket
We had several butchers in the main street
IGA was then know as Tuckerbag (Most people still probably call it this)
The post office was near where the clock is
In the main street of Moss Vale there was several banks not homewares shops
The pool was not inside a building
The Argyle was known as the Jemmy Moss
A Brief History of Moss Vale
Moss Vale has provided opportunities galore since it was first explored in 1798.
Established as a town in 1861 Moss Vale was first settled in the 1830s with the establishment of Throsby Park by Charles Throsby who built the first grand residence outside of Sydney's Cumberland Plains at Moss Vale – it still stands today and was owned by five generations of Throsbys.
In 1867 with the arrival of the railway Moss Vale really prospered and travel to the magnificent Southern Highlands was made easy.
The town was named Moss Vale after Jemmy Moss, a faithful servant of James Throsby.
Early settlers would have passed The Royal Oak Hotel which is now Briars Country Inn, a 4 star hotel accommodation and restaurant complex. Crossing the Wingecarribee River, Christ Church, the first church in the Highlands, still stands and features magnificent painted walls and stained glass windows. Many of our eminent pioneers are buried in its tranquil graveyard.
In the centre of town is the recently refurbished Leighton Gardens established in 1905 – a perfect picnic stop.
Today Moss Vale is a thriving community in a superb rural setting with a vibrant and rapidly growing commercial centre.
https://www.mossvale.org.au/discover/history/